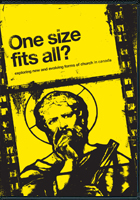 Church Planter and Filmmaker Joe Manafo's 43-minute documentary on new and evolving forms of church in Canada, One Size Fits All? has just been released on DVD and is available for sale at http://www.onesizefitsall.ca/. Manafo visits fresh expressions of church across Canada, including Emerge and St. Benedict's Table, Anglican fresh expressions of church in Montreal and Winnipeg. There will be a screening of One Size Fits All at the Vital Church Planting Conference February 17-19, 2009.
From http://www.onesizefitsall.ca/ – 
What is God doing on the fringes of Canadian culture? Flying under the radar of pop-Christianity, experimental churches are quietly establishing genuine Kingdom outposts in settings both feared and forgotten. 'One Size Fits All?' uncovers the obscure story of these Canadian missional communities and its leaders.
Watch the video below for a short preview: