Sue and Andy Kalbfleisch travelled to the UK in September 2009 to explore fresh expressions of church, and are liveblogging their travels here.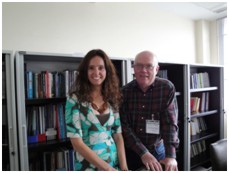 We met with Dr. Rachel Jordan, Associate National Mission & Evangelism Advisor (Church of England) who developed the Vision Day PowerPoint program materials and activities. An engaging and dynamic personality, Rachel will be in Toronto in February as keynote speaker for the Vital Church Planting conference.
Rachel is currently reviewing and updating the Vision Day program materials to make them more contextual and engaging. We had a lively discussion about some concerns from the Canadian Vision Day experiences and discussed how to improve the overall experience
PS: In addition to Fresh Expressions, another of Rachel's passions is "Jaffa cakes" !