Brian Stiller, former president of Tyndale University College and Seminary, is now Global Ambassador for the World Evangelical Fellowship. For the second time, we thought good idea! readers would appreciate one of his monthly blog entries about the church in different countries. Here he writes about the influence of a British Christian soccer player on China.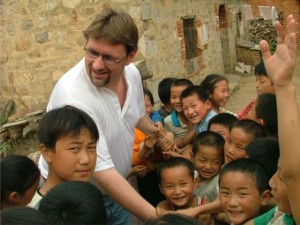 It seems unlikely that an imposing former professional British football (soccer) player would end up as a social worker. And even more unlikely, is that he would be appointed by the Chinese government to help solve one of their most pressing problems – over a million orphans left on streets or languishing in countless orphanages. Not only has Robert Glover led in placing 250,000 Chinese orphans in Chinese homes in the last few years, he has signed an agreement with the King of Thailand to do the same there. This story tells of the mystical and sure guidance of the Holy Spirit in building out of personal gifting and skill to solve a seemingly intractable problem in places where we assume the name of Christ is unknown.
Signing up as a professional footballer with Portsmouth and Norwich City, Rob eventually ended up studying social work, taking one of his first jobs in Guernsey. A visiting speaker at the church they attended said "Robert, I sense you will be father to children like the stars in the sky." Thinking it rather over the edge, he continued in his social work, focusing on orphans and their needs.
In 1996 while in China studying the problems of orphans, he was given tickets to the Chinese Special Olympics. Sitting next to him was a member of the Chinese Politburo. When he asked Robert why he cared for children he replied, "What I do for children, I do for the Father. God made the family for creation. When you warehouse children, they die." The Politburo member said, "Meet me at 8 AM tomorrow. There is someone I want you to meet."
Surprised by the invitation, the next morning Robert walked into a room of representatives of international organizations serving the needs of children. He sat and listened to accusations of the government's failings. They finally turned to him and asked him what he would do. Quite simple he said, "You integrate them into Chinese families and train those families how to care for children, helping them deal with those often traumatized by being left destitute." The minister asked, "Would you help us?"
Back in England the British Foreign Office called him to a meeting. In bilateral discussions, the Chinese had asked for help and the Foreign Office said, "Robert if you will go, we will fund it."
Selling everything he, his wife Elizabeth and six children moved to China. They began constructing a radically different model of caring for orphans in Shanghai, one he had refined as a social worker in England, under the name Care for Children, incorporated by John Langlois from Guernsey. At that time, Britain bid for and won the competition to host the Olympic Games and the Special Olympics. Rob's life's work was soon to expand as he sponsored North Koreans to compete in the Special Olympics in London.
Behind this scene are stories of political leaders that simply can't yet be told. But within the senior lines of authority, Robert had his "Cyrus." (If you recall, it was Old Testament King Cyrus who covered Nehemiah with authority, clearance and resources to leave Persia and rebuild the Jerusalem walls.) Robert had his benefactor. Doors were opened. Red tape cut through.
In time, Robert's Care for Children became larger, placing in the first five years some 5,000 children and in the coming years up to 250,000 orphans: 60% with disabilities and 84% girls. In working with 300 orphanages, 4,000 orphanage workers have been trained in post-placement care, for each child and their receiving family. Orphanages became a centre for social servicing of a variety of needs. Today they have taken on five cities in China to provide models of best practice.
Families of any or no religion are invited to adopt. One day the government asked Robert to initiate his model in an area where he was warned, there were no Christians. Thirty couples wanting to adopt, showed up for orientation. The government official tried a little humor: "You know this man Robert is a Christian." No one laughed. So he tried it again. Again no laughter. Finally a woman put up her hand and said, "Yes, but I'm a Christian." The person next to her did the same. They went around the room and everyone there confessed to Christian faith.
On the way home the official noted his surprise and asked, "Why would Christians want to do this?" Robert took out his small Bible and showed where Jesus said it was our calling to care for the little ones.
In time government sponsored media picked up his story. One story was all that some needed to convince them of Robert's motivation and means. A little girl emaciated and dying of a hole in her heart, yet too weak to sustain an operation, had been placed in a home. Three years later she was the picture of health. The doctor then decided she was healthy enough to sustain the operation. The specialist examined her and with tears spilling down his cheeks said, "But there is no hole there any more." Media picked it up calling her "The Miracle Baby, Healed by the love of a Mother."
Story upon story layers this incredible journey. Flown in by helicopter to the summer palace of the King of Thailand, Robert was asked to set up his NGO there, and today is helping in the placement of children left alone on the streets or stashed in human warehouses.
Working with the most senior of government officials, free to be explicit in prayer and Bible study in their programs, a social worker, prophetically called was sent and obeyed. Armed with learned skills in social work, toughened by years on the soccer field, he took on an intractable problem of those thought least important. His vision and practical solutions brought hope to a society whose recent history is rooted in atheism. Doors were opened and by the witness of the Gospel and power of the Spirit, many places are experiencing social transformation and lives are entering into spiritual wellbeing.
In 2005 Robert was awarded the OBE from Queen Elizabeth II at Buckingham Palace.
Little ones…for such is the kingdom.
Brian C. Stiller, Global Ambassador, The World Evangelical Alliance
November, 2013.
Published with permission by the Author